Welcome, Welcome all to the 49th
Worthwhile Wednesdays
Link Party!
HAPPY (Early) New Years!
I hope you 2015 is a fantastic year for you!
Sorry, there was no party last week. I found myself way behind on wrapping gifts and getting the house cleaned for Christmas Day guests.
This week, I have barely gotten the party up,
because I did something very stupid.
I went rollerskating with my daughter.
The skates won and I have broken my right
fibula in half and I've torn several ligaments.
This is just one side of my foot, the other side seems worse.
I go to the Orthopedic doctor tomorrow.
I may need surgery but hoping I don't.
However, I will do whatever it takes to get back to 100%. I don't want to live with problems with my leg and ankle for the rest of my life.
So prayers are needed bloggy friends. And I ever so appreciate every single one!
But enough about me, and onto you!
Thank You to everyone who was
able to link
up last Wednesday!
I have picked out 4 of my favorite ones, but they were all so awesome!
If you've been featured, please grab your
button and place it at the end of your featured post.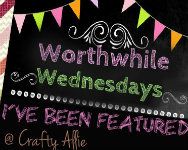 Now onto the party!
You can pretty much link up anything, except for nudity
or vulgar content.
Link up crafts, recipes, blog articles, DIY Decor, Blog hops, shops, and more.
By adding your link, you give permission to pin your post on Pinterest.
In addition, you also give permission to email you a weekly reminder when the party is Live.
Please grab a button and add it to your linked post or side bar.
Please show some love to the other bloggers by visiting some of the other links at this party!
QUICK REMINDER, Please link your posts in the first party, the smaller icon party is a social party, and not for linking posts (thanks ).
Want to Party some more? Link up with my social media party! Link up your Google+, Twitter, Facebook, Pinterest, and blog site!
Some of my latest posts
(incase ya missed them).
Thank you again.
I look forward to
seeing
what everyone links up!