Welcome, Welcome all the the 6th
Worthwhile Wednesday Blog Hop!
I am so glad you could join me today!
Where has the time gone? #6 already, woo hoo!
First things first... I'd like to thank
for guest blogging this Monday!
Would you like to Guest Blog???
If your interested please contact me via email. It can be found on the contact page.
Thank you to everyone who was able to link up last Wednesday!
I had a had time choosing 3 so I went for 4.
again with her
fabulous Chevron Purse/bag.
Gina, you've gotta make these
for Diaper Bags and sell them, they would sell
This is beautiful Birthday card by
Seriously, I think I'd cry if I got such a
beautiful hand made card like this.
A Pretty Floral Sleeve for an E Reader by
I'd love one of these, as I have just a plain o
ne from China for my Kindle Fire.
Crochet Yellow Hat Project from
I'm a sucker for cute beanie hats, and
I love the colors, just perfect for Easter and Spring.
If you've been featured, please grab your button and place it at the end of your featured post.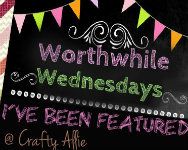 You can pretty much link up anything, except for nudity or vulgar content.
Link up crafts, recipes, blog articles, DIY Decor, Blog hops, shops, and more.
By adding your link you give permission to pin your post on Pinterest.
In addition, I will also email a weekly reminder when the party is Live.
Please grab a button and add it to your linked post or side bar.
Please show some love to the other bloggers by visiting some of the other links at this party!
Want to Party some more? Link up with my social media party! Link up your twitter, facebook, pinterest, and blog site!
Don't forget to check out my latest posts.
Thank you again! I look forward to seeing what everyone links up.
Click here to pin this link party!