12 Days of Christmas, and
Hey everyone! I'm Alli and I blog over at Tornadough Alli! I'm so excited to be sharing with you today here at Crafty Allie. Wow that's a lot of Alli(e)'s in one sentence!
Any who, a little bit about me: I'm a mother of 4 beautiful children; 3 boys and a princess. I hail from the great (but cold) state of Minnesota and I have a major sweets and bacon addiction. Specifically candied bacon...so in reality that can be considered the latter as well. I hope you all enjoy what I've brought to share for the 12 Days of Christmas!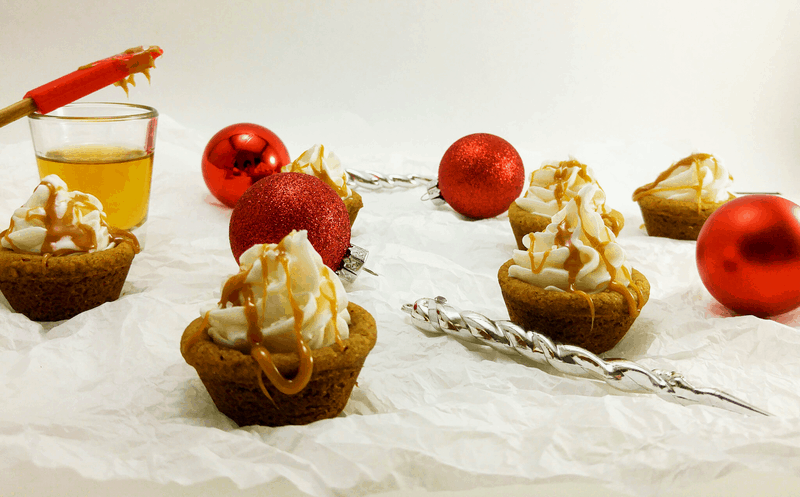 Can anyone else believe that Christmas is right around the corner? If you're anything like me you probably started planning all your holiday baking before Halloween even hit. Takes me a little while to narrow it down, sometimes I get too excited and impatient and just can't wait to make something. And sometimes I just realize that what I want to make is way above my skill level. Sad I know, I'll wait for someone else to shower me with those types of sweets.
One thing I've grown to love making is cookie cups! These little popable bites of heaven are fabulous! Fill them with frosting and you're set to go. The flavor combinations that you can create are pretty much endless. Since it's that time of year I figured I'd might as well share one of my favorite holiday flavor combinations: Gingerbread Cookie Cups with Bourbon Salted Caramel.
What?!?! Bourbon Salted Caramel. Yup, you heard that right. If you've never made your own salted caramel before, you're truly missing out. It is seriously easy and doesn't require many ingredients. Paired with gingerbread, these cookie cups have quickly become one of our favorite holiday treats. Hopefully these little devils will make your holiday season just a little bit brighter ;)
2 1/4 cups all-purpose flour
1 container white frosting
1. In medium sauce pan add your sugar,water and corn syrup and bring to a boil.
2. Boil for about 5-10 minutes, swirling the pan gently every so often to remove the sauce from sides of pan.
3. Watch carefully for the color to change from pale yellow to a dark amber, this happens quickly.
Once color changes reduce heat to low and slowly whisk in your cream.
4.
Stir in your bourbon and salt.
5.
Pour into 1/2 pint jar and let cool until thickened but still pourable.
6.
Preheat your oven to 350.
7.
Lightly spray a 24 count mini muffin pan with non stick spray.
8. In a medium bowl mix together your flour, ginger, baking soda, cinnamon, nutmeg and salt. Set aside.
9. In another bowl cream together your butter and sugar until light and fluffy.
10. Add your egg and beat until combined then add the molasses.
11. Slowly mix in the dry ingredients until just combined.
12. Grab dough by heaping tablespoonfuls and roll into balls and set into muffin pan. You will have some leftover dough, you can make more cookie cups or roll into balls and make regular cookies.
13. Bake for about 10 minutes.
14. Remove from oven and depress center of cookies with a teaspoon to create a cup and let cool.
15. Once cool add your frosting to a piping bag fitted with a start tip and pipe desired amount into each cup.
16. Drizzle with caramel sauce and sprinkle with salt.
Thank you so much Alli for sharing this delicious recipe with us!
And thank you all for tuning in today!