Well Hello and Happy Monday!
Today, I am honored to have Colleen from
Hello Crafty Allie readers! My name is Colleen, I'm the DIY and Lifestyle blogger behind Lemon Thistle (home to DIY, Parties, Home Decor, Printables and Babies). I'm so happy to be here sharing how to DIY some metallic desk accessories to dress up your work space. I'm completely in love with my copper tape dispenser now. I never knew I could love something that just holds plain boring tape so darn much. But I do. And it fits so well in my new work space, I almost feel silly how pleased I am with this little guy!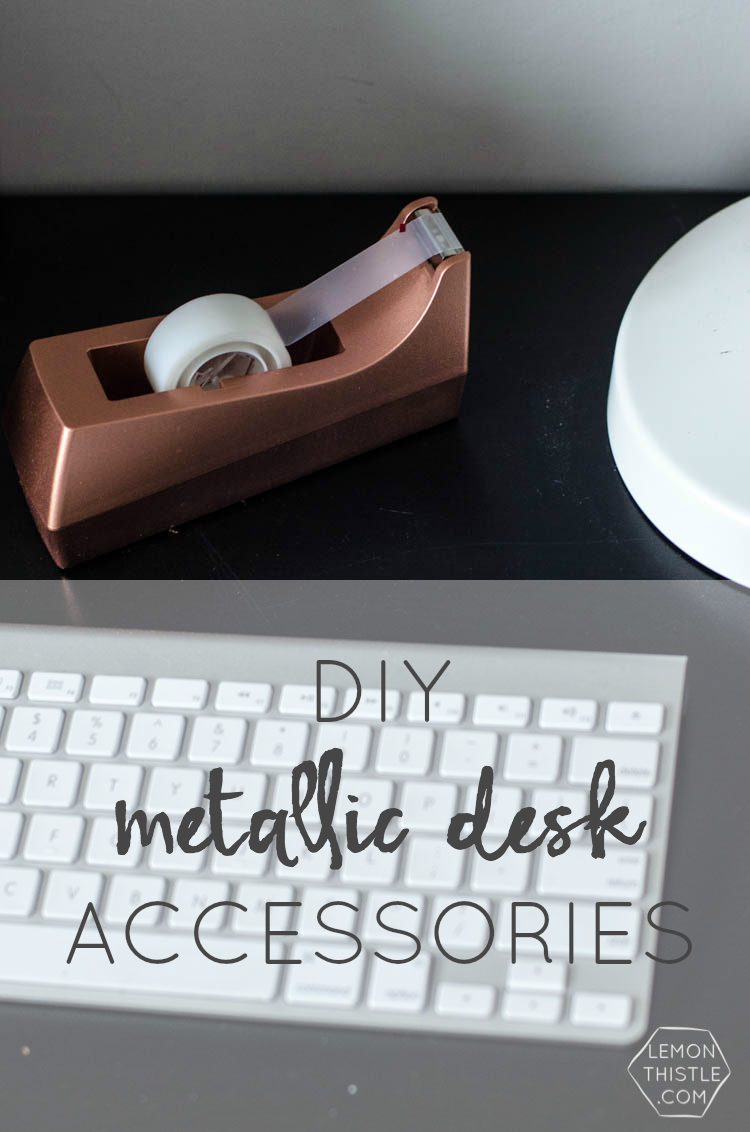 This tape dispenser actually has a bit of a funny story. I couple weeks ago, I answered the phone and my sister-in-law (the only person I personally know who loves to DIY things as much as I do) started ranting that there were no nice tape dispensers in this world. I'd never thought about it before- I always just hid it in my desk drawers. She'd been all over town looking and found nothing. She told me she was standing in the aisle at Target looking at these plain white ones and wishes they came in better colours. 'The shape is awesome, but they're so boring!'. Then she asked if I'd spray paint one for her. And if I did, she'd buy me one too. Sold! After much ribbing from her hubby ('who does things like this!?'), and a few hours of waiting for paint to dry- I have this gorgeous new tape dispenser!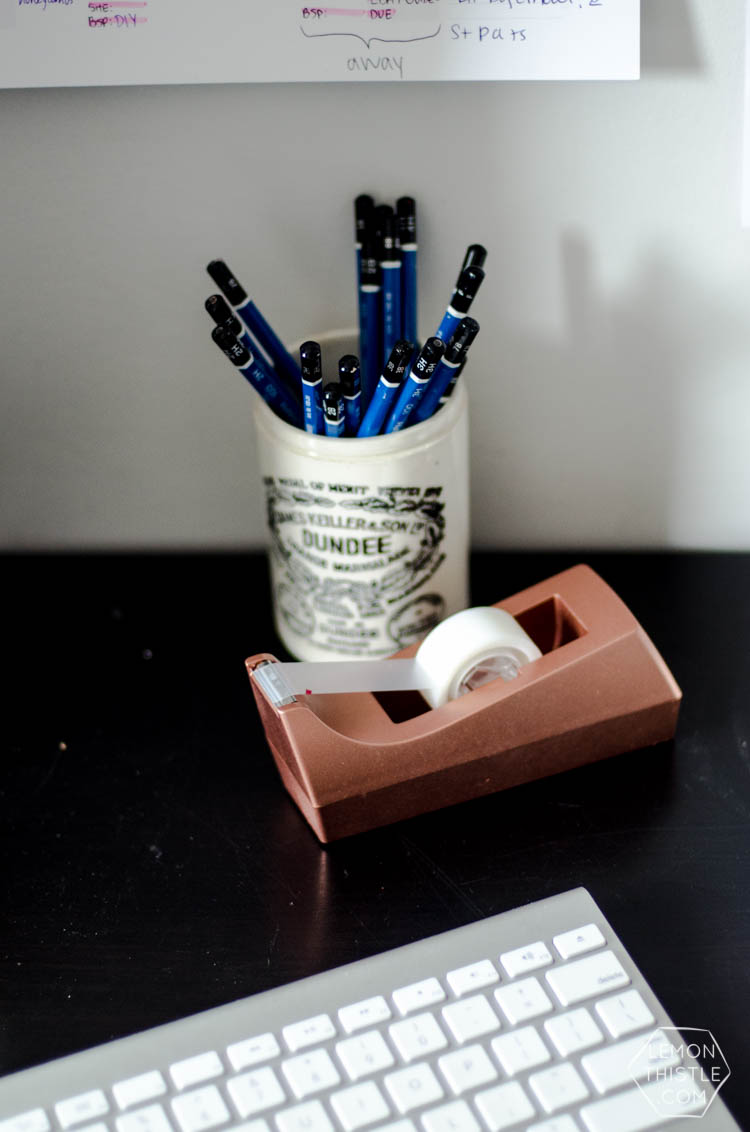 And it's much too pretty to relegate to the drawer, so here it sits. I guess it goes to show that you can make pretty much anything look awesome with a bit of spray paint. If you haven't picked up on the steps, here's the play by play. You'll need one tape dispenser, painters tape, spray paint.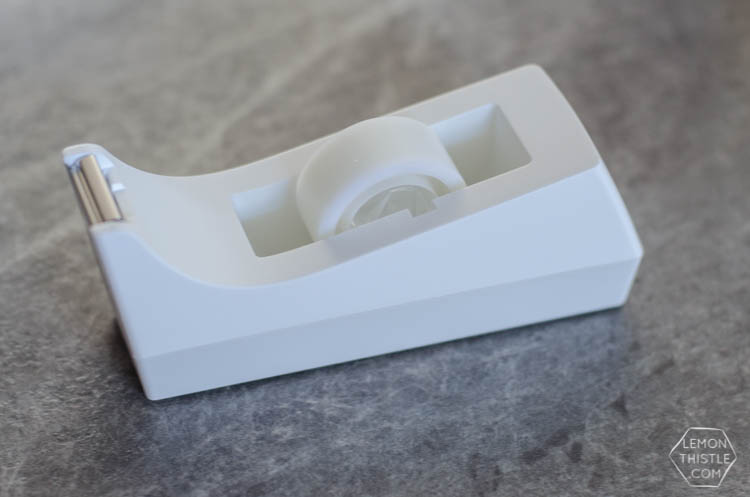 Start by either removing the pieces you'd like to keep from being coloured or carefully protecting them from the paint with tape. For me that meant the clear plastic wheel that the tape sits on and the metal cutting edge.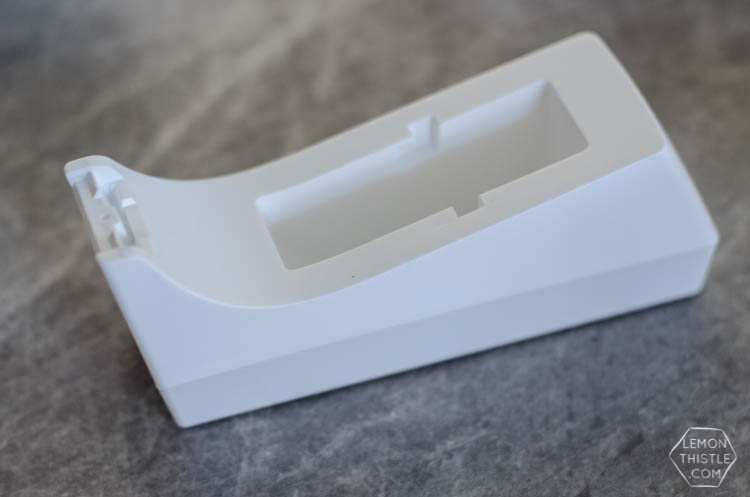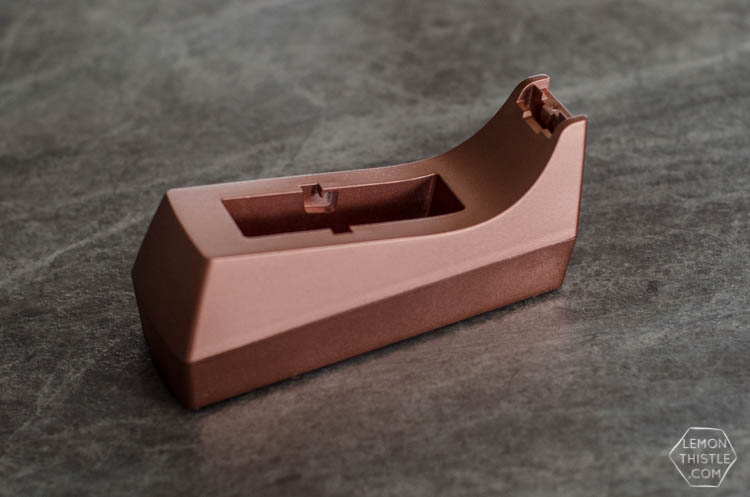 Next, spray light coats of your metallic spray paint, allowing to dry fully in between coats. I can't stress enough to take your time and do light coats, allowing it to dry in between. I'm an impatient crafter and hardly ever wait- BUT metallic paints just don't hide your mistakes as well as other paint (at least the 8 different cans I have in my basement don't!). When you're happy with the coverage, re-assemble and test it out! I had to use superglue to re attach the metal cutting edge- I have no idea how it stuck in there before!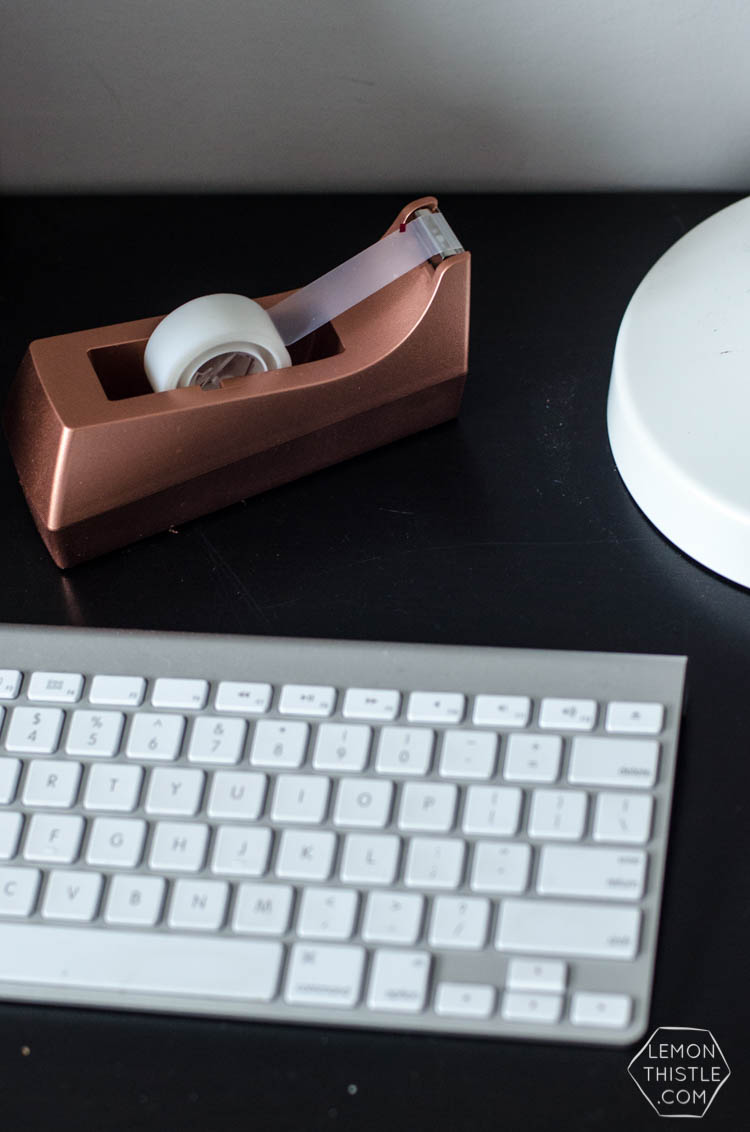 I'm so happy with this little update to my desk. I use tape all the time so it makes sense to have it on my desk. If you use a stapler all the time... why not try some spray paint on it? I'd love to hear if you metallic-ize anything on your desk! It's so much fun, I don't know if I can stop. I have a funky blue stapler that might be the next victim
.

Thank you so much Colleen for guest posting!
It's always a pleasure to have you!
And thank you all for tuning in!