Welcome, Welcome all to the 50th
Worthwhile Wednesdays
Link Party!
Thank you, thank you for all of your prayers.
I unfortunately did have to undergo surgery. But there was no alternative.
I did more damage than I thought I did.
What we did know is I fractured my fibula, but what we didn't know is that I fractured the whole ankle joint and as a result my fibula had completely slipped out of the joint.
During the surgery, he rebroke the fibula and put a metal (permanent) plate over it.
He then placed the fibula back into place and used wires to hold it into place, which is as well permanent.
I have a huge incision running down my calf to my foot. It's puffy, and oh so ugly.
I take pride in my feet, and this looks hideous!!!
Good news is though, this should fix it. Bad news is I'll be immobile for another 2 months.
After that I'll be undergoing a lot of physical therapy to learn how to walk again.
Because I tore ligaments going from the right side of the ankle going over to the left side.
Good news is, that since last Friday the 2nd when it was done, I feel a little better each day.
Other than Vitamin B oil, anyone know of some really good inexpensive ways to minimize my scarring?
Thank You to everyone who was
able to link
up last Wednesday!
I have picked out 4 of my favorite ones, but they were all so awesome!
If you've been featured, please grab your
button and place it at the end of your featured post.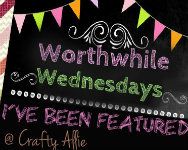 Now onto the party!
You can pretty much link up anything, except for nudity
or vulgar content.
Link up crafts, recipes, blog articles, DIY Decor,Blog hops, shops, and more.
By adding your link, you give permission to pin your post on Pinterest.
In addition, you also give permission to email you a weekly reminder when the party is Live.
Please grab a button and add it to your linked post or side bar.
Please show some love to the other bloggers by visiting some of the other links at this party!
QUICK REMINDER, Please link your posts in the first party, the smaller icon party is a social party, and not for linking posts (thanks ).
Want to Party some more? Link up with my social media party! Link up your Google+, Twitter, Facebook, Pinterest, and blog site!
Thank you again.
I look forward to
seeing
what everyone links up!